To choose a different book style for a book you have begun editing:
Open your book by clicking on it in your My Project Library, and then selecting Edit.
Be sure you are viewing the cover of the book.
Click the Book Style button on the left of the program window.
Click on the style that you want within the popup menu that appears. You can see more on our book style options here.
Note: Before you change style it's important to note, the contents of your book will remain the same, however, the existing cover will need to be recreated as different book styles have different wrapping areas. If you have already created your cover, we recommend taking a screenshot for reference before changing styles so you're able to have a visual for recreating it.
You can see more on creating covers here: Custom Covers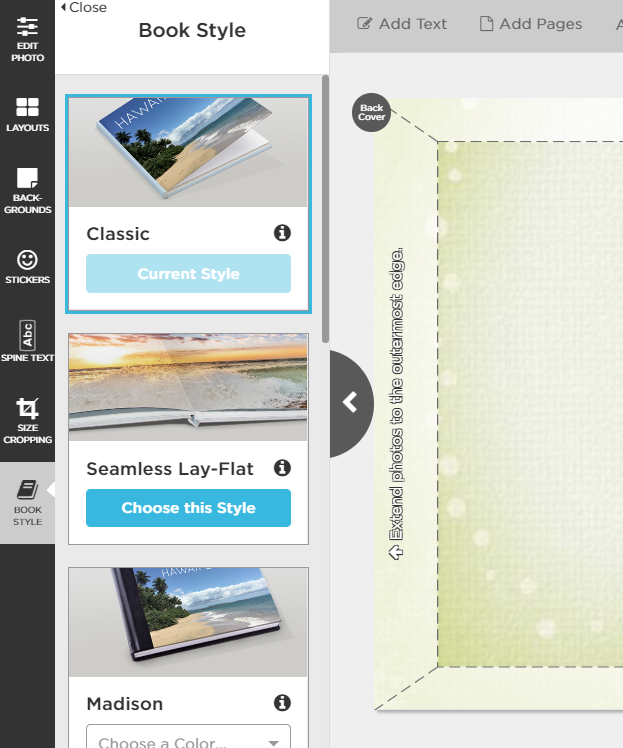 Please ensure you choose your book size/style at checkout based on the size/style you selected during book creation. Ordering in another size/style from how the book was created can cause inconsistent results with cropping. You can see more on this here: Size Cropping in the Editor


Ratio Note: When you first start a book, you're prompted to select either Landscape or Square format. Due to the differing aspect ratios, it is not possible to switch a Square book to Landscape, or vice versa. The only way to create a Landscape version of the book so that you can select a different book style is to create a brand new project.
< Visit our User Manual for more information on creating your projects