Classic
Our most popular Classic style is great for capturing all your life's moments. Set the tone of your photo book with one-of-a-kind front and back covers and a customizable spine. Available in two page styles, standard and lay-flat, Picaboo photo books are made to stand the test of time by using the strongest binding methods available for both styles.

Classic with Standard Pages books are bound like a traditional book, while our Classic with Lay-Flat Pages books are bound using a special process in the center (see photo below) that allows the pages to lay flat with a small gap between the pages, while the book is viewed.
Available in sizes: 8x6, 8 x 8, 11 x 9, 12 x 12, 14 x 11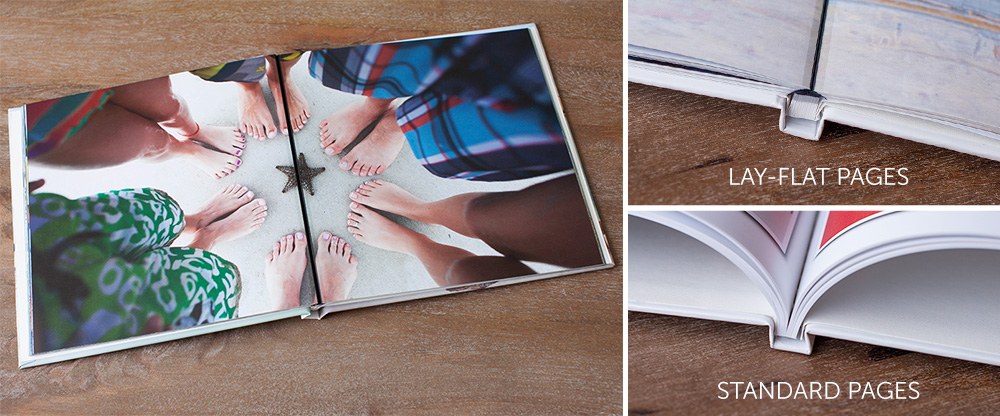 Seamless Lay-Flat
Our Seamless Lay-Flat creates fluidity with your photos by spreading them across two pages without a disruptive seam. The pages lay flat, allowing your photos to shine with a polished look. Extra-thick premium paper featuring a silk finish and a custom designed smooth & elegant matte cover makes it as enjoyable to hold in your hands as it is beautiful to view.
Available in sizes: 8 x 8, 11 x 9, 12 x 12, 14 x 11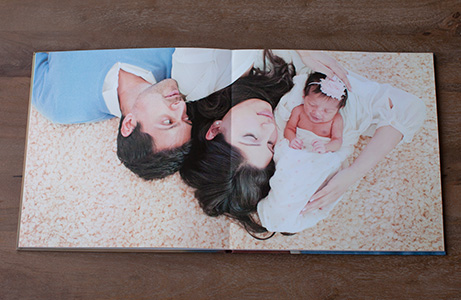 IMPORTANT NOTE: The Seamless Lay-Flat is a different book style than our Classic Custom with Lay-flat pages. For more information please check out the product pages or this article highlighting the differences.
Premium Mini Books
Our Premium Mini Books books are a great way to take your loved ones wherever you go. Sweet in size and sentiment, cross everyone off your list with a heartfelt gift they'll cherish for years to come. Premium Mini Books are the go-to choice for a personalized gift that's both easy and affordable. This gorgeous little book was made for sharing. Tell your story across a stunning seamless display worthy of any occasion. Handcrafted with double-thick premium satin-finished paper, pages are both stain-resistant and tear-resistant for lasting memories. Encased with a matte UV-coated softcover and a wraparound design, the Premium Mini Book is designed to bring your memories to life.
Available in sizes: 5x4, 5x5