You may find that you wish to use your own photo as a background on a page. You can also use a photo for a Background Spread. This will stretch one of your photos between two pages in one simple action.
To accomplish this, drag a photo up to the page from the Media Tray, and when you release it, you will see the menu options available for that image. One of the options in the list is "Background Spread". Select that option, and your image will be stretched over the background of both pages. This may hide the top and bottom portions of the photo, depending on the dimensions of the image, but you can always move the positioning of the image up or down.

Another cool design element is the Two Page Photo option. Like the Background Spread option, your image can overlap both pages. The difference here is that the image will stretch across both pages, but not cover the entire background. You can reposition or resize the image however you wish,
Important: Picaboo's background spread feature is designed for use with lay-flat book styles. If you're creating Classic book, make sure the Lay Flat pages option is selected on the order form. If you're ordering a book with standard pages, important image details from your two-page spread may be lost to the gutter of the book.
Additionally, in order to ensure that no important details are lost, even with the Lay Flat pages option in the Classic book style selected you'll want to make sure to avoid having important details (such as faces) directly in the middle of the spread, since there will be a small gap between the pages.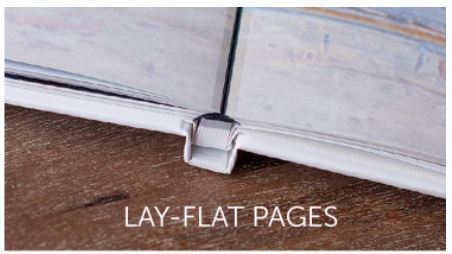 You can learn more about the Seamless Lay-flat books and get more info about the difference between the two Lay flat options.