Once your hard work is done on your project and you're ready to order, simply click on the

button in the upper right of the Edit screen to go to the shopping cart. You can also do this from the Library by clicking on your project and then the Add to Cart option there.
The first step is to go over the Order Preparation Checklist. Check to make sure your Spelling is correct, nothing is in the Crop Zone, your Photos aren't fuzzy or dark, and the layouts are satisfactory.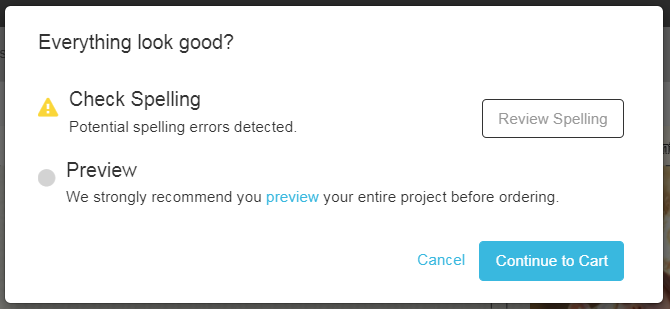 Next, you can select the options for your project, such as the size and quantity. Depending on the type of product being ordered, you may need to select additional options you want for your project, such as hard or soft cover, as well as what type of paper you want (lay-flat or standard). Different options may have different pricing.
If you have not ordered before, the next screen is where you'll be prompted to enter your shipping address. Once you start entering your address, Google autocomplete may show you suggestions. If you see your address there, you can click on the suggestion, and your address will automatically be filled in. Please be sure to double check the address before ordering.
If you want to add other items to your cart, you can close the browser window, go back to the Library, and add another project.
After you've added all your items to the cart, you'll find yourself back at the Shopping Cart page. Click on Go To Checkout to proceed.
If this is your first time using Picaboo, you'll be prompted to enter a billing address and a credit card. Enter your information including credit card to and click Continue to proceed to the Checkout page.
Note that different product types may be shipped separately, so you would see a separate shipping option dropdown menu available for each item. Choose your shipping for each if necessary, and enter any promotion code you wish to use on the right. After you click Apply, the discount will be visible in the Order Summary.
On the Checkout page your product will still be displayed with the details. Your billing information and shipping address will be displayed above. The price of your order will be displayed on the right, including any discount that was applied. Please double check all the information before placing your order.
When you're ready, click the Place Order button to finalize the order. An order confirmation will display with additional information including how to cancel an order. NOTE: We are not able to take cancellation requests through email.