When starting a new project, you'll have several sources from which you can import images. You can import from your computer, your existing projects, Facebook, Google Drive, Google Photos, Dropbox, and Flickr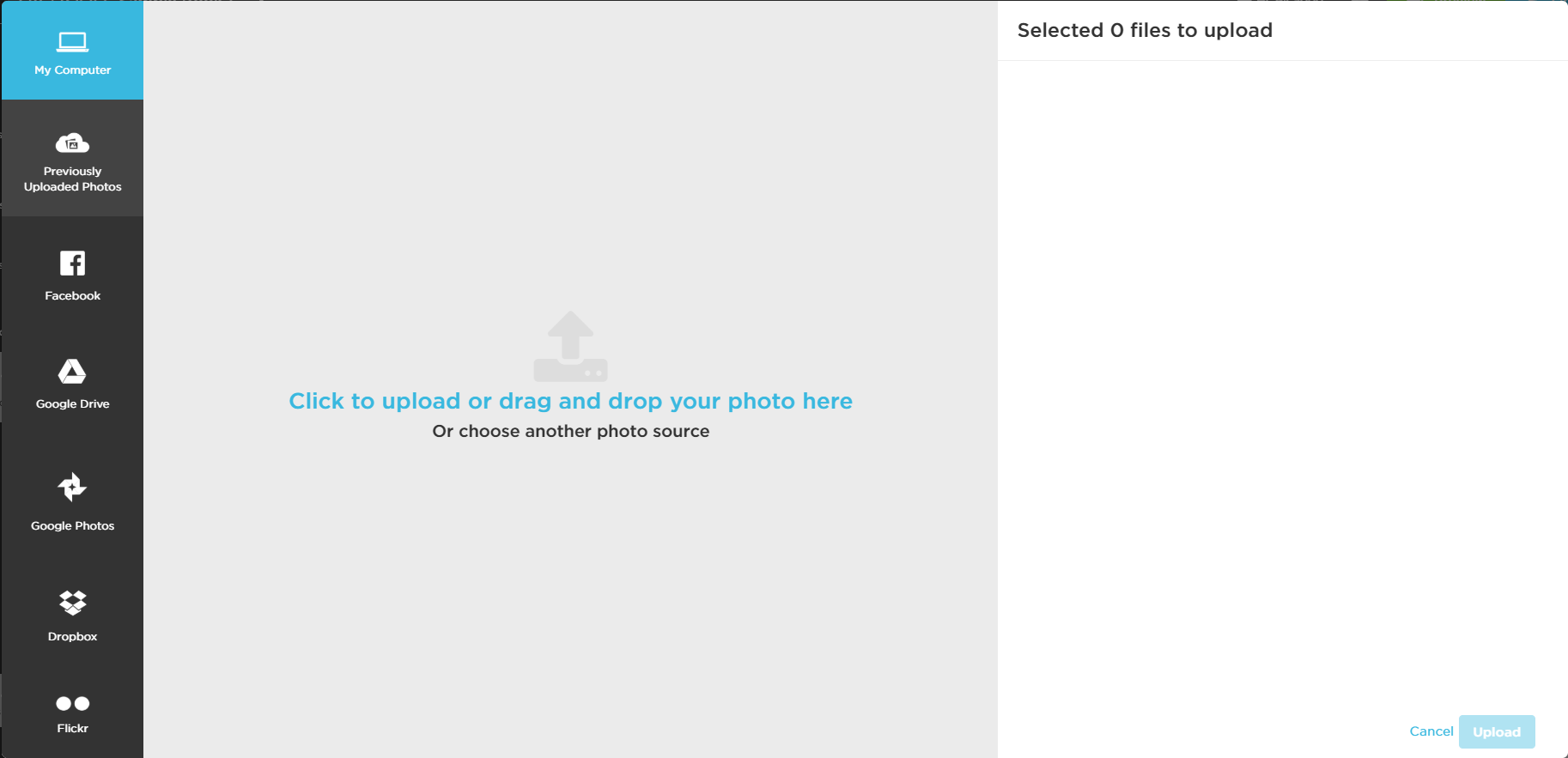 Selecting My Computer will allow you to drag and drop photos or click the option to open your computer folders, so you can select images that are stored on your computer. You can click and drag to select multiple images, or hold down the ctrl (cmd for Macs) key to click on and select multiple images. Then click on Open to add these images. You can click on My Computer again to select more images from a different folder as well.
Selecting Previously Uploaded Photos gives you the option to import images from other projects that you've already created. Simply double click on the folder for the project type, then click on the name of the project to see the images that you can select from in that project.
Selecting Facebook will allow you to import images directly from your Facebook folders. Note: Only images on your page can be selected here. Images that have been shared on your page cannot be selected. To use those images, you'll need to download them directly to your computer, and then select them from there.
Selecting Google Drive, Google Photos, Dropbox and Flickr will similarly ask for you to sign into your account, and then allow access to select images from those sources. If you need to switch accounts when working with one of these cloud services, you would need to close the program, clear your cache and cookies and sign in again to the account you want to use. You can search for instructions on how to do this on the internet for your particular browser version.
Once you've selected your images, click on Upload to begin your project. If you've opted to Skip this step, or if you need to import more images while creating your project, you can click on the "Add Photos" button in the lower left, next to the Media Tray to bring more images into the project. If the Media Tray is showing your pages instead of your images, click the "Photos" option in the lower left.