The "Missing Images" error shows up when a project was closed before all the used images were fully uploaded to our servers. While Picaboo allows you to quickly create a new project and begin editing your pages immediately, it is still necessary to finish uploading all of your imported photos to our servers.
This image upload process continues in the background while you are working on your project, and you will see a small "Uploading" progress bar in the upper left.
When the uploading process is finished, you will see the word "Saved" appear in the upper left.
If your project was closed before the uploading process was complete, you will receive this message the next time you open that project:
The message above will show up if Picaboo recognizes that one or more used images in your project were not fully uploaded. If you look through your project, you will see an empty image frame where any missing photos used to be located: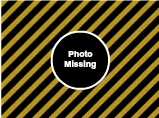 At this point you can either replace any missing photos with different images, delete the empty image-frames, or re-add the original images (recommended). To re-add the original images back into your project, first click the "Add Photos" button in the lower left. Next, simply select and import all of the same images you originally brought into your project. If some of your images were successfully uploaded, they will not be selectable, to indicate there is no need to import them again.
After you have re-imported all of the missing photos, they will be automatically placed back onto your project pages where they were originally located. If you made adjustments to any images such as rotation, zoom, brightness or contrast, those adjustments will also be retained when the photos are placed back into your project.