To order your Classic Custom book with Lay-Flat paper, make sure the "Lay-Flat" option is selected in the Size Cropping section while editing your book. This will show the correct cropping for that type of paper and based on the size you selected when creating your book. If you change your mind during the creation process, be sure to check through ALL the pages in the preview to make sure nothing important is in the cropping zone.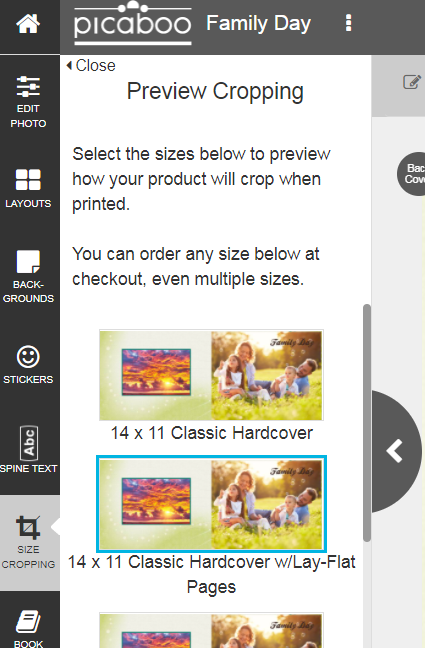 Once your book is created and has been edited with the Lay-flat option, be sure the Lay-flat pages option is selected at checkout. This option won't be available if your book is more than 90 pages long.

Remember, even though it doesn't show this in the editor, the Classic books with lay-flat paper will have a seam in the middle between the left and right pages, so you don't want to put any important details in center area.
If you are interested in the Seamless Lay-flat version, you will need to change the book style, but these are different books. While the Seamless book doesn't have the seam, the pages are double thick which can mean a thicker, heavier book. You can see the differences between the two Lay-flat versions here.
To change your book style, you can select the book style option.