Picaboo offers plenty of pre-designed layouts to choose from when creating your project. You can select from any of these layouts to get started and customize the page further from there, or you can customize your pages from scratch.
To apply one of our pre-designed layouts to your page, click on the Layouts option from the Editing Toolbar on the left. The Layouts tab will appear, and clicking one of the options there will apply the selected layout to your page. If your page is set as a single page, it will give you the option for single page layouts. If the two pages you see are set as "Spread," in other words the two pages are linked together so you can apply photos across both pages, then you will see two page layouts. You can easily convert from single pages or spreads by clicking on the blue "Convert to..." link. You can then click the drop down box to select how many photo spaces or image wells you want on the page or spread.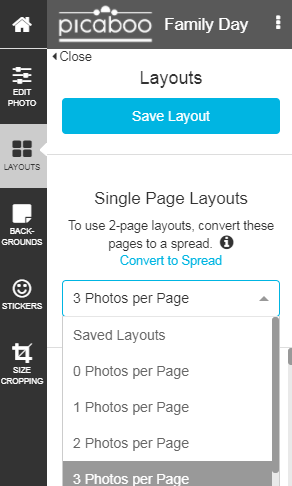 Saved Layouts
If you have a layout that you've created which you want to use again, you can save it for use on other pages.
To do this, click Layouts and then click the Save Layout option.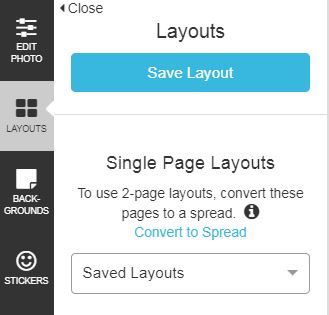 You can select which page to save (left or right), give the layout a name and click the button to save it.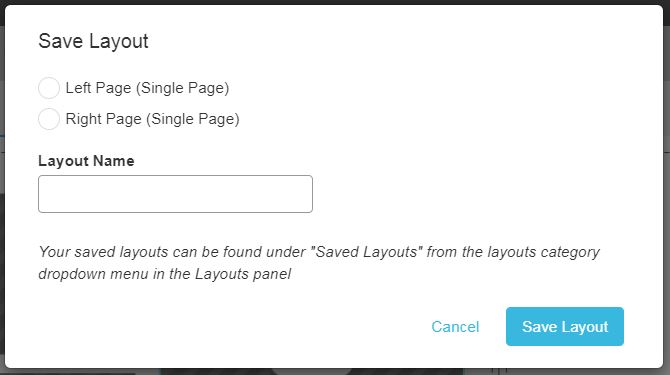 To access that layout on other pages, click the small down arrow on the box where you can pick the number of photos you want on the page and select the Saved Layouts option.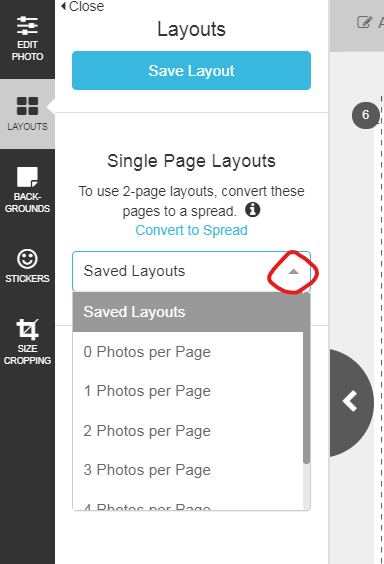 If you no longer need a particular layout, you can just click the red "x" in the lower right to delete it from your saved designs.